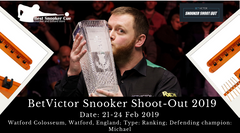 The BetVictor Snooker Shoot-Out is coming back to the Watford Colosseum for the third consecutive year in 2019. This snooker shoot out tournament will be sponsored by BetVictor for the very first time. This sporting event features single frame matches. The world ranking snooker tournament has a unique set of rules. The snooker shoot-out will be played over a maximum of ten minutes with a shot clock of 15 seconds for the first five minutes and 10 seconds for the last five minutes.
The BetVictor Snooker Shoot-Out will be hosted at the Colosseum from February 21st to 24th 2019. It will see 128 players battling for the trophy. It will be played under the variation of the standard rules of snooker and the fourteenth ranking event of the 2018-19 snooker season.
Michael Georgiou is the defending champion and beaten Graeme Dott by 67-56 in the 2018 Snooker Shoot-Out final. Eurosport and Quest will be the host broadcaster for the first time.
The BetVictor Shoot-Out is a wonderful snooker event that has become one of the main highlights of the season for fans that enjoy the fast and furious pace of play. The 2018 Shoot Out was one of the best tournaments with so many matches going down to the last few seconds. The final game was an amazing one that was a great moment for Michael Georgiou. It's an opportunity for up and coming players to make a name for them.
Important Details –
Event Name – Snooker Shoot-Out
Main Sponsor – BetVictor
Venue - Watford Colosseum, Watford
Start Date – 21st February 2019
Finish Date – 24th February 2019
Total Prize Money - £146,000
Format – Ranking Event
Current Champion - Michael Georgiou
Bottom Line –
Do you play snooker and want to improve your game? If yes, you should look no further than Best Snooker Cue. We have the best snooker and billiards accessories including solid wood billiard cue stick to improve your game and help you win. Best Snooker Cue is highly motivated and inspired to bring snooker players from all across the world with top of the line products at competitive prices.
For the latest news on upcoming snooker tournaments, please stay tuned to our Facebook, Twitter, and Instagram social media pages!