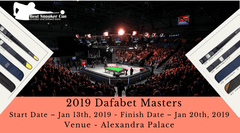 Introducing Dafabet Masters
The Masters sponsored by Dafabet is the most prestigious invitation snooker tournament. This event enjoys a rich history back to 1975 and considered as one of the sport's Triple Crown events along with the UK Championship and World Championship.
Only the best 16 players are invited to compete for Dafabet Masters trophy and get a prize of £200,000. This event has been staging at the iconic Alexandra Palace in North London from 2012 that appeals sell-out crowds.
Understanding 2019 Dafabet Masters
The Alexandra Palace is going to host the second Triple Crown event of 2018-19 snooker season - 2019 Dafabet Masters after 2018 UK Championship. This event will take place from January 13th, 2019 to January 20th, 2019. The Masters will feature the top 16 players as per the revision 7 of the world rankings.
This Masters tournament has the defending champion – Mark Allen seeded first whereas Mark Williams seeded second. The rest of the seeded and unseeded spots are allocated based on the world rankings after the 2018 UK Championship. Jack Lisowski will make debut at the 2019 Dafabet Masters.
Likewise in the previous years, the top eight seeds were allocated positions in the draw. The remaining draw was made by drawing lots during the final match of the 2018 UK Championship.
The 2019 Dafabet Masters Event Details
Location – London
Venue – Alexandra Palace
Start Date – January 13th, 2019
Finish Date – January 20th, 2019
Total Prize Money - £600,000
Format - Invitation Event
Winner Prize Money - £200,000
Defending Champion – Mark Allen
Buy Tickets: http://www.worldsnooker.com/tickets/2019-dafabet-masters/
Bottom Line –
Do you want to watch 2019 Dafabet Masters? Love snooker? If so, consider buying snooker accessories like pool stick cases at Best Snooker Cue. Our snooker and billiard store aims to provide you with better alternatives for superior standard cues and provide you with the knowledge to make a well-informed purchase. Please stay connected with us on Facebook, Twitter, and Google social media networks!