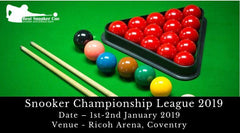 Attending Championship (Snooker) League 2019
Do you love playing snooker? You don't have to wait for long at all! Get ready to see the first professional snooker action of 2019! The Ricoh Arena in Coventry is all set to host the Championship League starting from 1st to 2nd January 2019.
Despite the ever expanding and busy new snooker world, the Championship League competition has still managed to be an important part of the top tier calendar. Championship League is a non-ranking snooker tournament that is devised by Matchroom Sport.
All of the tournaments have been hosted in the Crondon Park Golf Club since its debut in 2008. In fact, John Higgins is the reigning champion in Championship League. He is a two-time defending champion, having retained his 2017 title with a victory of 3-2 against Zhou Yuelong in 2018 final.
The 2019 Championship League is a next professional non-ranking snooker tournament. The invitation event will be hosted from 1st January to 2nd January 2019. It will be the 12th staging of the Championship Snooker League.
The Event Details –
Event Name – Championship Snooker League
Date – 1st-2nd January 2019
Venue - Ricoh Arena, Coventry
Final Consideration –
Are you planning to attend this Championship Snooker League 2019? Championship Snooker League 2019 is all set to reach the Ricoh Arena, Coventry. If you love snooker, it's best to shop for high-end cues from Best Snooker Cue. We have the right knowledge you need to know to make an informed purchase.
Best Snooker Cue is highly motivated and inspired by the drive to bring snooker players all across the world with top-of-the-line snooker products that you can use to improve their game and win. We are highly focused on the most important factor, improving your game and playing skills. For more information about our products and pricing details, please visit our website at https://bestsnookercue.com/.